7 tips for a professional and customer-friendly reception at your company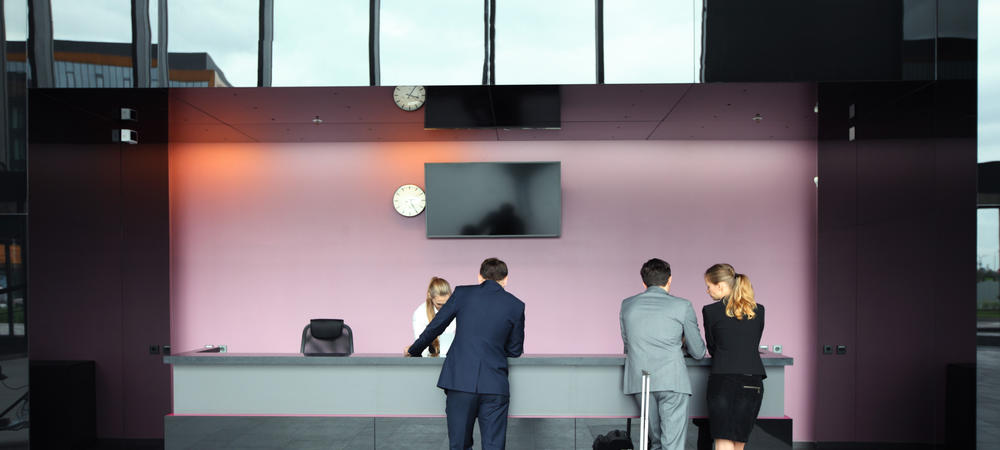 Rule number one with regard to providing a customer-friendly service: never underestimate the importance of the first impression.
Rule number one with regard to providing a customer-friendly service: never underestimate the importance of the first impression. For a customer, this starts at your company's front desk. By the way, no need for major investments to arrange the reception area in an attractive and customer-focused way. You'll already make a big difference by applying these simple tips.
1. Look at it from the other side
What is the customer's experience of your company's reception? The best way to find out is to put yourself in the shoes of a customer. What do you see when you walk in through the main company's entrance for the first time? Does everything look neat? Can you find your way easily? Do you feel welcome? Try to experience it as a customer would, and then take the time to evaluate your impressions.
2. Chaos is incompatible with professionalism
A lobby area where people trip over cardboard boxes, a reception desk so cluttered with stacks of papers and files the receptionist is hardly visible, and a reception corner littered with dirty cups... all that won't exactly convey the idea of professionalism. A well ordered work environment always has advantages, but the part that is visible to visitors deserves even more attention. So, file documents in folders and cabinets, immediately remove dirty cups and glasses, and provide neatly closed bins that visitors can use to dispose of their waste.
3. You know the way, but visitors usually don't
Do not assume that people will find their way to the reception by themselves. You must therefore clearly indicate the way there. This also applies to the toilets. When these are not in the vicinity of the reception area, you might have to accompany visitors for a bit to show them the way.
4. Provide a comfortable waiting room
Make sure that visitors who have to wait are at least able to sit down and that beverages are available. Coffee, tea and water are a must, and if necessary install a vending machine in the waiting area. Optionally, you can also provide something to eat: on a dish, place fresh fruit, nuts, biscuits, chocolates bearing the company logo, etc. Don't forget to put paper napkins nearby.
5. Make the wait as pleasant as possible
Place some reading material on a coffee table for visitors, preferably a brochure about the company, a relevant magazine or any magazine that might interest your customers. If you have a TV screen, don't just tune it to any channel; instead, play a company video on a loop, for example. If you don't have any film footage, choose a channel that is relevant to your business, such as a broadcaster of financial and business news. For customers who have to wait a little longer, you might want to provide a quiet work corner where they can plug in their laptop and use the Wi-Fi network.
6. Avoid disturbing smells and sounds
The pungent smell of air freshener or cleaning agents, the permanent hum of electronic equipment or poor acoustics in the reception area will impact your customers' experience negatively. You should therefore try and eliminate unpleasant odours and sounds. By placing a nice espresso machine in the reception area, you create a homely atmosphere for example, and customers are welcomed with the smell of coffee as soon as they enter the room. You can dress a bare office floor with a warm carpet to improve the acoustics and appearance. And instead of using chemical air fresheners, you can also brighten up the room with fragrant flowers or plants.
7. The face of the company
A good reception assistant is friendly, helpful, preferably multilingual has a groomed appearance and is the human face of your company. Smaller companies do not always have an appointed receptionist, which means that everyone has to receive customers on occasion. In such cases, it's important to brief all employees properly.
Some tips:
Approach visitors as soon as possible and ask them kindly if you can help them: Do they have an appointment, with whom, what is their name and which company do they work for?
 
Invite visitors to take a seat while you notify the contact person and offer them a beverage right away.
 
If the contact person in question is still in a meeting, let the visitors know while also indicating when you expect that person to be available again.
 
When visitors have to wait a little longer, accompany them to the meeting room and give them the password for the Wi-Fi, for example. This allows them to check their mailbox or do a bit of work.
 
A little later, check if the person with whom the visitors had an appointment has become available, bring the visitors up to date and check if they want another beverage or need anything else.