In view of the recent developments surrounding the coronavirus, Bright Plus also takes the necessary precautions. Here's an overview:
18/05/2020
As of May 18, Bright Plus offices will reopen again! But your health and the safety of our employees remain our biggest priority. That's why we will work only via appointment and will limit physical interviews to a minimum for the time being.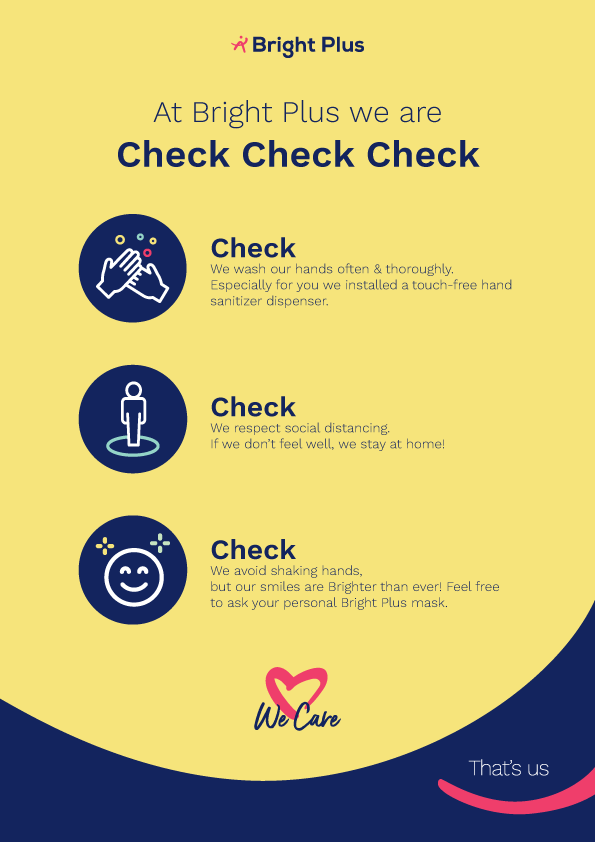 17/03/2020
We're out – but not completely
In times of corona, our main focus is on everyone's health. That is why Bright Plus is closing its offices, although we will remain available online, via our usual telephone numbers and email addresses; All our employees are working from home. You can contact them via the digital highway for all your questions. We, on our part, are doing everything we can to guarantee our usual services remotely. 
Thank you and see you soon!
16/03/2020
Our customer meetings will be scheduled by phone or Skype as much as possible.
Our offices remain open and an on-call system is in place. However, we are restricting our presence at the office to minimise the risk of infection.
The necessary hygiene guidelines shall be respected at our offices, and we will keep a distance when a candidate comes in for a meeting. Here are the seven golden rules again:

Wash your hands regularly and thoroughly.
Cough/ sneeze in a paper tissue and then throw it away.
Use paper tissues, not handkerchiefs.
Stay home when you're sick.
Avoid touching your face with your hands.
Avoid shaking hands and kissing.
Avoid close contact with others when you are sick.

Interviews with candidates can also be scheduled online or via Skype.
If you don't feel comfortable about proceeding with the interview, make sure to let your contact know.
We will update this article regularly and keep close tabs on the government's guidelines.
Take care of yourself and your loved ones.